Michelle Obama, Melinda French Gates, and Amal Clooney Reaffirm their Support of Girls' Empowerment Programs and Experts in Malawi
The three women are committed to continuing their work around the world, in partnership with local organizations, to eradicate child marriage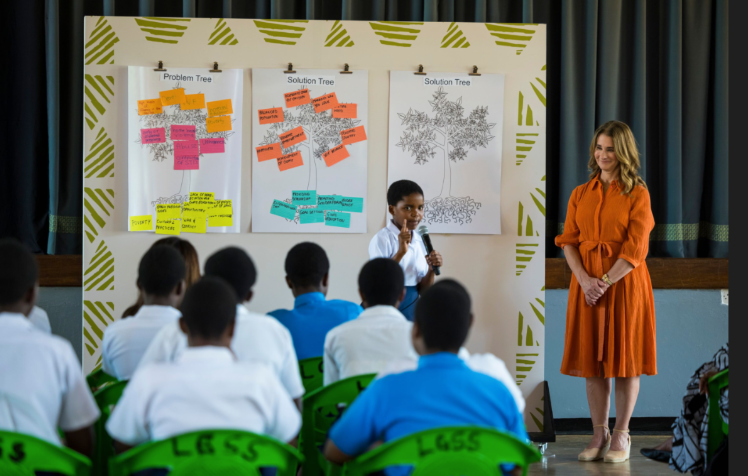 LILONGWE, Malawi, November 15, 2023 -/African Media Agency (AMA)/- Former First Lady of the United States Michelle Obama, global philanthropist Melinda French Gates, and leading human rights lawyer Amal Clooney, were in Malawi to support the fight against child marriage, advance gender equality, and learn how their three organizations can best support grassroots organizations and experts who are actively engaged in this work.
According to our partners at Girls Not Brides, a global network of organizations working to end child marriage, 650 million girls and women alive today were married as children. Malawi has been a leader in Africa and globally in tackling child marriage and drawing attention to the challenges adolescent girls face and working with adolescent girls to tackle these challenges. While Malawi has decreased the number of girls who are married by more than 20 percent over the past ten years, there is still more work to do as 38 percent of girls are still married before the age of 18. Despite progress in Malawi and globally, UNICEF reports that at the current rate, it will take another 300 years until child marriage is eliminated.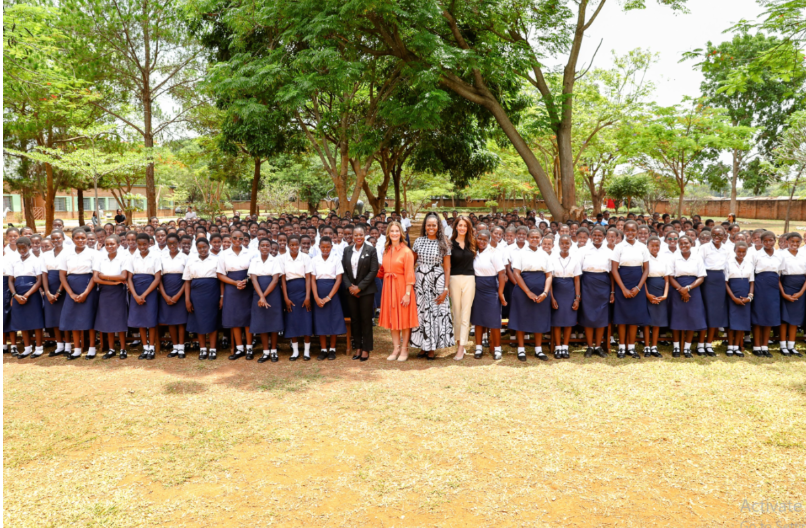 All three leaders champion programming initiatives in Malawi aimed at building girls' power, actively contributing through their respective Foundations: The Obama Foundation's Girls Opportunity Alliance, the Bill & Melinda Gates Foundation, and the Clooney Foundation's Waging Justice for Women program. During their time in Malawi, they connected with students actively engaged in the Advancing Girls' Education in Africa (AGE Africa) CHATS program (Creating Healthy Approaches to Success). This after-school initiative is designed to empower students, foster academic achievement and impart valuable life skills. Mrs. Obama, Ms. French French Gates, and Mrs. Clooney also met with human rights champions from groups such as the Women Lawyers Association of Malawi and Girls Not Brides Malawi.
The three women are committed to continuing their work around the world, in partnership with local organizations, to eradicate child marriage and ensure girls and women have the power to make decisions over their own lives. In addition to furthering the impact of their work, they hope to inspire others to join them on their mission to ensure girls everywhere can reach their full potential.
"It was an honor to visit Malawi with Melinda French Gates and Amal Clooney and meet so many incredible women and girls who are working to end child marriage," said former First Lady Michelle Obama and founder of the Girls Opportunity Alliance. "For the past five years, the Girls Opportunity Alliance has been working with leaders on the ground who are changing outcomes for girls in the country—including Ulanda Mtamba and her remarkable team at the AGE Africa program, who are making sure girls can delay early marriage and get the education they deserve. Every moment I spend with these leaders reminds me of the power we all have when we come together to make a difference, and I'm so proud to be able to join their effort in creating a more equitable world for us all."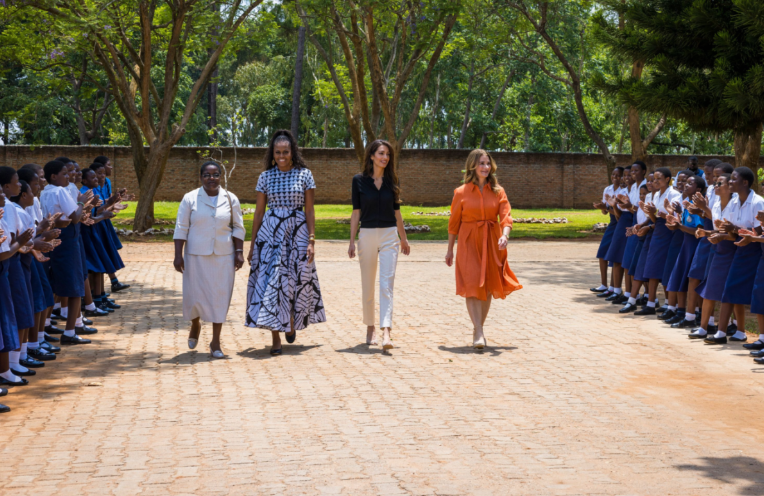 "It was so inspiring to be in Malawi with Michelle Obama and Amal Clooney to meet with leaders on the front lines of the movement to end child marriage," said Melinda French Gates, co-chair of the Bill & Melinda Gates Foundation. "Child marriage, like so many other issues, is a symptom of deeper problems such as poverty, a lack of education access, and gender inequality. But if more leaders invest in programs that empower women and girls, then we'll make progress not only on ending child marriage, but on so many other challenges as well."
 "It is a privilege to be working alongside so many inspirational Malawian women in the fight to make child marriage history" said Amal Clooney, Co-Founder of the Clooney Foundation for Justice. "Child marriage persists because there are inadequate legal protections for millions of girls across Africa. And even in nations such as Malawi where child marriage is prohibited, girls cannot access justice. That is why the Clooney Foundation for Justice has partnered with the Women Lawyers Association of Malawi to launch mobile legal aid clinics: so that girls know their rights and get free access to a lawyer to defend them. I was honored to see this work on the ground in this beautiful country, and to join forces with inspirational leaders Michelle Obama and Melinda French Gates in doing so." 
Photos can be found here. Please credit "The Obama Foundation." The photographs may not be manipulated in any way, and may not be used in commercial or political materials, advertisements, emails, products, or promotions that in any way suggest approval or endorsement by the Foundation, President Obama, or Mrs. Obama without the Foundation's prior written consent.
Distributed by African Media Agency (AMA) .
BACKGROUND:
Last October, Mrs. Obama, Ms. French Gates, and Mrs. Clooney announced a collaboration between their respective organizations to advance gender equality and end child marriage—helping girls overcome barriers they face in their communities in order to reach their full potential. As part of their collaboration, the three gender equality champions committed to:
Supporting champions and organizations that are working to end child marriage and advance gender equality.
Engaging in joint advocacy on shared priorities to support young women's empowerment, working to overcome the barriers they face to achieving their full potential.
Working together to scale and expand each organization's programming globally, to support emerging leaders and grassroots organizations worldwide and ensure that no girls are left behind.
Building on the Clooney Foundation's work to strengthen the next generation of gender justice champions in Africa through fellowships, challenge discriminatory laws through the courts, and increase women's access to justice through a network of 'women for women' legal aid clinics.
Growing the Girls Opportunity Alliance Network and Fund and its capacity to support additional community-based organizations that are working to break down the barriers that adolescent girls face around the world.
Building from new evidence and insights, including those generated by partners through the Child Marriage Learning Partners Consortium, on what is needed to enable girls to thrive.
Supporting the grassroots groups and advocates who have worked tirelessly for decades to end child marriage, like Girls Not Brides and the Girls First Fund.
In March of this year, three prominent organizations dedicated to ending child marriage—Girls Not Brides: The Global Partnership to End Child Marriage, Girls First Fund, and VOW for Girls—formally joined forces with the Clooney Foundation for Justice, the Bill & Melinda Gates Foundation, and the Obama Foundation's Girls Opportunity Alliance to champion initiatives that will help end child marriage by working with and supporting girl- and community-led groups, striving to eliminate barriers for girls worldwide.
ABOUT THE OBAMA FOUNDATION'S GIRLS OPPORTUNITY ALLIANCE:
The Girls Opportunity Alliance, a program of the Obama Foundation, seeks to empower adolescent girls around the world through education, allowing them to achieve their full potential and transform their families, communities, and countries. Its goal is to use its platform to convene leaders, lift up other organizations, and use high-profile public awareness to drive action on adolescent girls' education. Since 2018, the Girls Opportunity Alliance has supported more than 70 grassroots projects for girls' education in 26 countries like Malawi, India, Cambodia, and Peru. These projects include providing scholarships for girls education in Malawi, building computer labs in Kenya and learning centers in Peru, and supporting mentorship programs in Cambodia and India that empower girls both in and out of the classroom.
Media contact: GirlsAlliancePress@obama.org
ABOUT CLOONEY FOUNDATION FOR JUSTICE'S WAGING JUSTICE FOR WOMEN INITIATIVE:
The Clooney Foundation for Justice was established by Amal and George Clooney to wage justice for human rights by providing free legal support to persecuted communities in over 40 countries around the world.
Amal Clooney, a barrister with two decades of experience defending victims of human rights abuses, founded the Waging Justice for Women initiative in 2022. The initiative aims to fight injustice against women and girls through strategic litigation to reform discriminatory laws and increase accountability for gender-based abuse. Through this initiative, the Clooney Foundation works with local partners to help women and girls in Africa claim their rights in court –their right to go to school, be safe from violence, escape child marriage and have equal rights to property.
It is investing in next-generation gender justice champions through a fellowship program for young lawyers across Africa. And it is increasing access to justice by establishing mobile women-for-women legal aid clinics: so that women know their rights and have lawyers who can help to enforce them.
Media contact: media@cfj.org
ABOUT THE BILL & MELINDA GATES FOUNDATION:
Guided by the belief that every life has equal value, the Bill & Melinda Gates Foundation works to help all people lead healthy, productive lives. In developing countries, it focuses on improving people's health and giving them the chance to lift themselves out of hunger and extreme poverty. In the United States, it seeks to ensure that all people—especially those with the fewest resources—have access to the opportunities they need to succeed in school and life. Based in Seattle, Washington, the foundation is led by CEO Mark Suzman, under the direction of Co-chairs Bill Gates and Melinda French Gates and the board of trustees.
Media Contact: media@gatesfoundation.org
The post Michelle Obama, Melinda French Gates, and Amal Clooney Reaffirm their Support of Girls' Empowerment Programs and Experts in Malawi appeared first on African Media Agency.
Source : African Media Agency (AMA)
L-R: Adam Elhiraika, Director, Macroeconomics and Governance Department, ECA; Kevin Urama,…