Bybit Web3 IDO Adds Pop Social (PPT) to Its Roster, Enabling Access to the Ultimate Web3 AI Social Experience
DUBAI, UNITED ARAB EMIRATES, 20 October 2023 -/African Media Agency(AMA)/- Bybit, the world's third most visited crypto exchange, is excited to announce the launch of Pop Social on its Web3 IDO platform. Bybit users can now participate in the token sale of Pop Social (PPT), the ultimate Web3 AI social media platform, and be part of the groundbreaking community.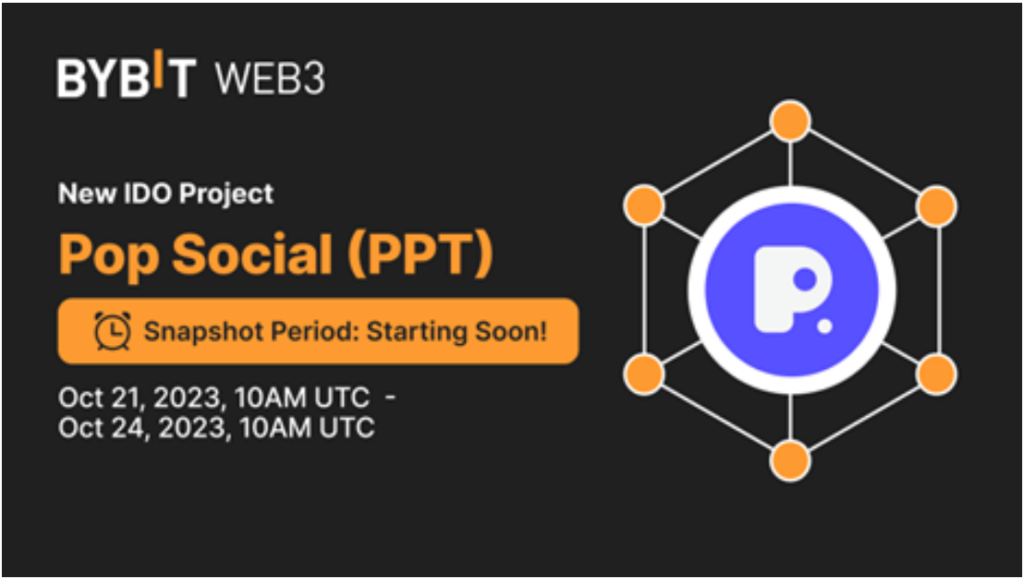 Pop Social aims to revolutionize the social media landscape by fostering an engaging, social experience driven by user-generated content. By democratizing content ownership and empowering the AI creator economy, Pop Social bridges the gap between conventional social media platforms and the Web3 shared social experience. Bybit is proud to support this innovative project and welcome the next billion users into the world of Web3.
"Bybit is dedicated to advancing innovation in crypto and driving global adoption of Web3," said Ben Zhou, co-founder and CEO of Bybit. "The launch of Pop Social on our IDO platform gives users early access to promising projects at the forefront of social media's transition to AI and blockchain technologies. Our community can now help guide emerging ventures and be part of building the future of this exciting industry."
During the Bybit IDO, a total of 500,000 PPT tokens will be allocated, representing 0.25% of the total max supply. Bybit users can purchase PPT tokens at a price of 0.1 USDT per token, making it accessible to join. To participate in the Bybit Web3 IDO, users must possess a Bybit Wallet with a minimum balance of 250 USDT (BNB Chain) and 0.1 BNB (BNB Chain). For more information, please visit here.
Distributed by African Media Agency (AMA) on behalf of Bybit.
About Bybit
Bybit is a cryptocurrency exchange established in 2018 that offers a professional platform where crypto traders can find an ultra-fast matching engine, excellent customer service and multilingual community support. Bybit is a proud partner of Formula One's reigning Constructors' and Drivers' champions, the Oracle Red Bull Racing team, esports teams Astralis, Alliance, Made in Brazil (MIBR), and Oracle Red Bull Racing Esports.
For media inquiries, please contact: media@bybit.com
For more information please visit: https://www.bybit.com
For updates, please follow: Bybit's Communities and Social Media
The post Bybit Web3 IDO Adds Pop Social (PPT) to Its Roster, Enabling Access to the Ultimate Web3 AI Social Experience appeared first on African Media Agency.
Source : African Media Agency (AMA)
L-R: Adam Elhiraika, Director, Macroeconomics and Governance Department, ECA; Kevin Urama,…