Bybit Applauds Max Verstappen's Landmark Third F1 World Championship Victory
DUBAI, UNITED ARAB EMIRATES, 11 October 2023 -/African Media Agency(AMA)/- Bybit, the world's third most visited crypto exchange, extends its heartfelt congratulations to Oracle Red Bull Racing driver Max Verstappen on securing his third Formula One world championship title.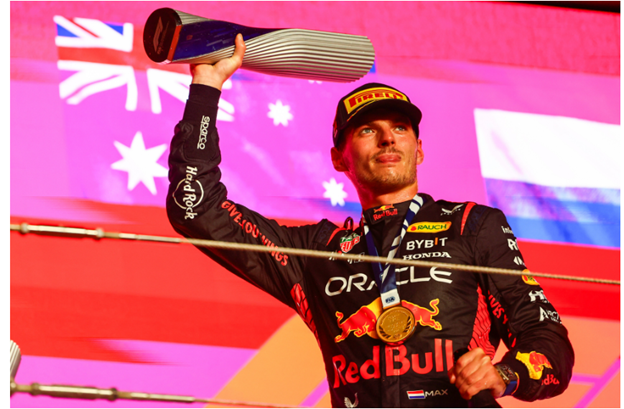 Joining an esteemed group of drivers to have achieved three F1 titles, Verstappen's name now sits alongside legends like Jack Brabham, Jackie Stewart, Niki Lauda, Nelson Piquet, and Ayrton Senna. As he continues to etch his name in the annals of motorsport history, Verstappen stands poised to challenge quadruple champions Alain Prost and Sebastian Vettel on the all-time list.
Bybit, known for its commitment to innovation, speed, and pushing boundaries, is immensely proud to have partnered with Oracle Red Bull Racing throughout Verstappen's 2023 journey to this historic accomplishment. This collaboration has not only united the worlds of Web3 and motorsports but has also provided unparalleled opportunities for fans to witness Verstappen's greatness firsthand.
"Max's unwavering dedication, skill, and relentless pursuit of excellence are truly inspiring. As Bybit continues to empower communities and inspire the next generation, this historic achievement by Oracle Red Bull Racing serves as a testament to the shared values and aspirations of both the web3 and motorsports worlds." said Ben Zhou, co-founder and CEO of Bybit. "Bybit remains committed to partnering with Oracle Red Bull Racing as we push the boundaries of what is possible in our respective fields."
Distributed by African Media Agency (AMA) on behalf of Bybit.
About Bybit
Bybit is a cryptocurrency exchange established in 2018 that offers a professional platform where crypto traders can find an ultra-fast matching engine, excellent customer service and multilingual community support. Bybit is a proud partner of Formula One's reigning Constructors' and Drivers' champions, the Oracle Red Bull Racing team, esports teams Astralis, Alliance, Made in Brazil (MIBR), and Oracle Red Bull Racing Esports.
For media inquiries, please contact: media@bybit.com
For more information please visit: https://www.bybit.com
For updates, please follow: Bybit's Communities and Social Media
The post Bybit Applauds Max Verstappen's Landmark Third F1 World Championship Victory appeared first on African Media Agency.
Source : African Media Agency (AMA)
L-R: Adam Elhiraika, Director, Macroeconomics and Governance Department, ECA; Kevin Urama,…